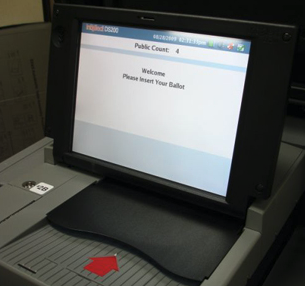 Election Systems & Software
DS200
Make / Model: ES&S DS200
Equipment Type: Hand-Fed Optical Scan Tabulator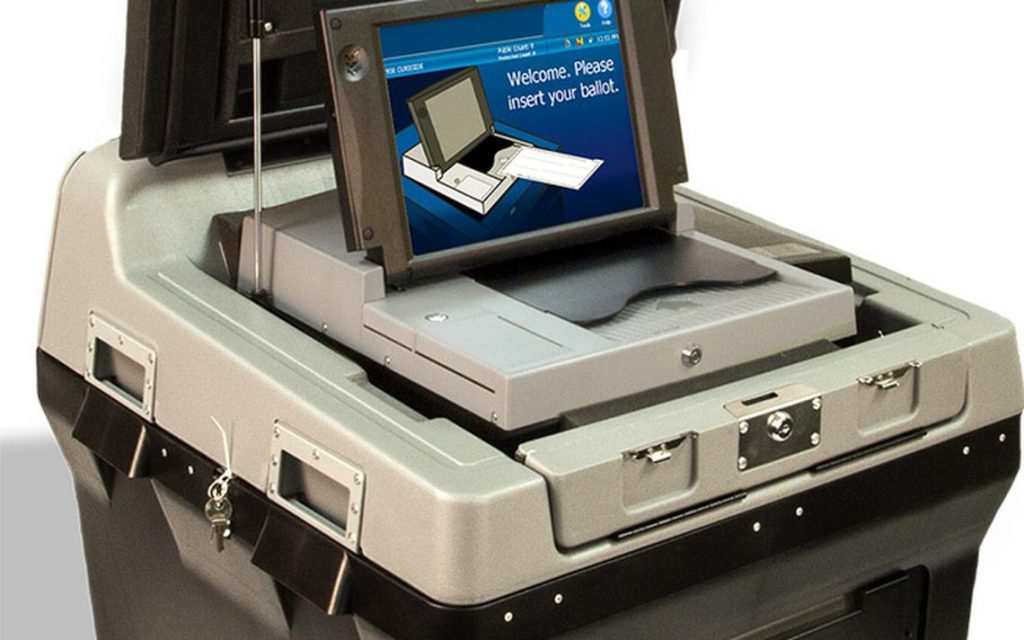 The ES&S DS200 is a ballot scanning device. It is used most often to support polling locations with voters who hand-mark paper ballots (typically distributed at the polling place check-in station) and then hand-feed the paper ballots into the scanner, in order to cast the ballot. Ballots can be inserted into the DS200 in multiple orientations: face up, face down, header first, or footer first. The device simultaneously scans the front and back of a paper ballot, interprets voter marks, and communicates any issues that require the voter's attention back to the voter through an LCD display. For example, if the voter has marked too many choices in a race, the display lets the voter know this and offers the option to return the ballot for correction, or to cast the ballot.
The DS200 scanner can also scan and tabulate machine-marked "summary cards:" printed by ES&S ExpressVote ballot marking devices. In jurisdictions that use this device combination, instead of hand-marking their paper ballots, voters use a touchscreen display to mark their choices, and then they print a paper "summary card" of their choices, with a QR code that encodes the voter choices. When the paper record is hand-fed into the DS200 scanner, it scans the QR code to interpret voter choices and record votes.
Because the DS200 device is a scanning device only, and does not have features that support marking choices on ballots, features that may be helpful to voters with disabilities are limited; the DS200 is not marketed as an "accessible voting device." It does not have an audio-tactile controller, for example, and its audio features are limited to only making different "beeps" or "bell" sounds as ballots are scanned, or returned to the voter when marks require additional attention.
Whether voters hand-mark paper ballots or use ExpressVote ballot marking devices to print a summary card,  after voters insert their paper records into the DS200 scanner, they will have a chance to review any potential mismarks that require attention. When voters cast ballots, the DS200 scanner pulls the ballot through a motorized feed and deposits the ballots into the integrated ballot box. The DS200 device has tabulating capabilities, and when the polls close, the DS200 can print out the race results and other information on a paper tape (if configured to do so).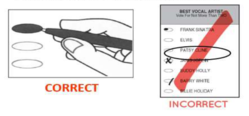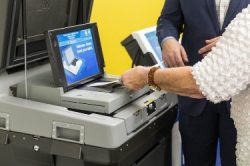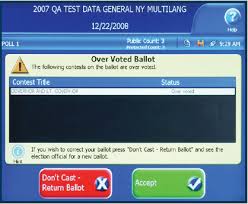 After receiving your ballot from the election officer, fill in the oval located next to your selection for a candidate or choice of an issue. When you have finished filling in your ballot, you will feed your ballot into the DS200 machine.
As votes are entered, the DS200 stores the vote tallies on its internal memory card. Optional land line and wireless modems are available for the DS200. When the polls close, the DS200's internal printer prints out the precinct's vote report on paper.
The DS200 is coded to detect and notify the voter when it encounters an overvoted race or issue on the ballot. An overvote is when more than the allowed number of selections in a race or issue has been marked. An audio alert will sound and the display will indicate that an over-voted race or issue was detected and offer the voter two choices, "Accept" or "Return".
If the voter selects Accept, the ballot will be counted, all properly marked races and issues will receive the appropriate votes, and the over-voted races and issues will receive an over-vote. The individual candidates or issue choices in an over-voted race will not receive any votes.
If the voter selects Return, the ballot will be returned uncounted, and the voter may contact the election official and have the ballot spoiled and receive a new one.
Overvoting should not be confused with undervoting.  A voter undervotes when he/she casts fewer votes for a particular office than she is permitted to cast.  No ballot or vote will be canceled as a result of an undervote.
If you have a question, please ask a Poll Worker. If you make a mistake on your ballot, return it to a Poll Worker and ask for a new one. You can request up to two replacement ballots. Be sure to double check your ballot for accuracy, as improperly marked votes will not be counted. Once your ballot is scanned and accepted, your vote is final.
DS200 Voting Instructions from the Maryland Board of Elections
DS200 Pollworker Instructions from Jackson County, AL
Election Systems & Software was founded in 1979 as American Information Systems Inc. (AIS), it merged with Business Records Corp. the following year and changed its name to ES&S. It is now a subsidiary of McCarthy Group, LLC, and McCarthy Capital. As of 2007 it was the largest manufacturer of voting machines in the United States, claiming customers in 1,700 localities. As of 2007 it had approximately 350 employees; 2005 revenues were $117 million. ES&S announced its purchase of AutoMARK Technical Systems on January 28, 2008.