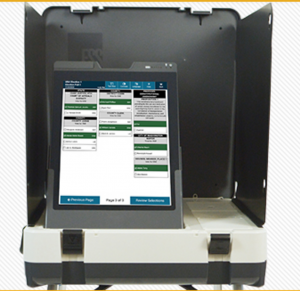 Election Systems & Software
ExpressTouch
Make / Model: ES&S ExpressTouch
Equipment Type: Direct Recording Electronic (DRE)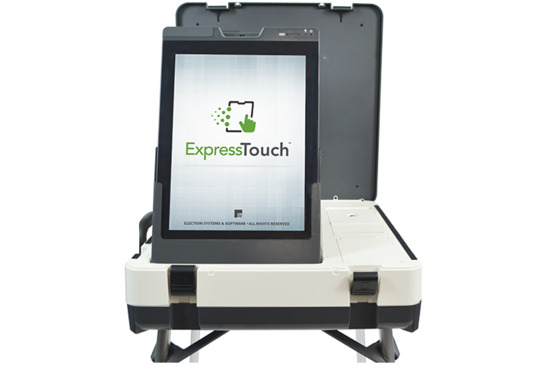 Designed as a replacement for the nation's aging fleet of direct recording electronic devices, the ExpressTouch compact tablet provides a secure and intuitive voting experience all within a 15-inch HD touch screen. The ExpressTouch portable booth functions as a stationary platform for voters and collapses into a self-contained transport and storage case for the tablet.
The ExpressTouch not only encrypts all election data and totals, but it provides a real-time audit trail for all events, including their time and date stamps, saved to the USB flash drive.
The operating software provides security access controls to limit and detect access to critical system components, guarding against system integrity loss and availability. This maintains confidentiality and provides accountability for each unit. Each units' hardware was designed to protect against tampering during system maintenance, or interventions in system operations, and in response to system failure. In addition, system access during equipment preparation, testing and operation is limited by physical locks, access codes and smart cards.
Election Systems & Software was founded in 1979 as American Information Systems Inc. (AIS), it merged with Business Records Corp. the following year and changed its name to ES&S. It is now a subsidiary of McCarthy Group, LLC, and McCarthy Capital. As of 2007 it was the largest manufacturer of voting machines in the United States, claiming customers in 1,700 localities. As of 2007 it had approximately 350 employees; 2005 revenues were $117 million. ES&S announced its purchase of AutoMARK Technical Systems on January 28, 2008.