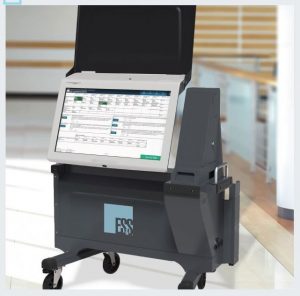 Election Systems & Software
ExpressVote XL
Make / Model: ES&S ExpressVote XL
Equipment Type: Hybrid BMD/Tabulator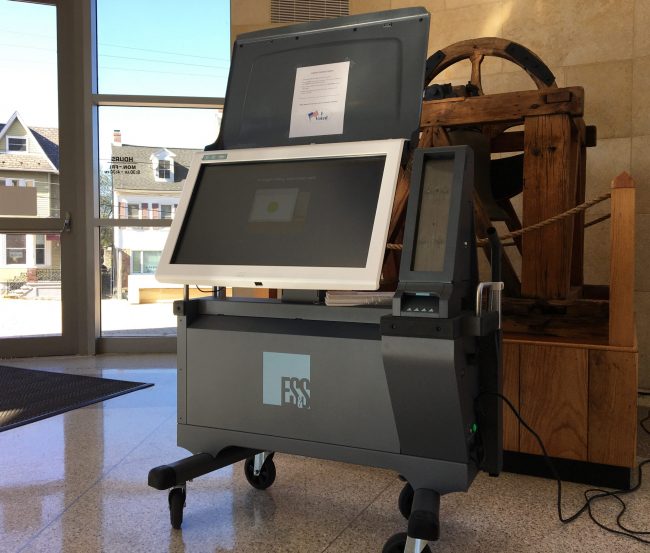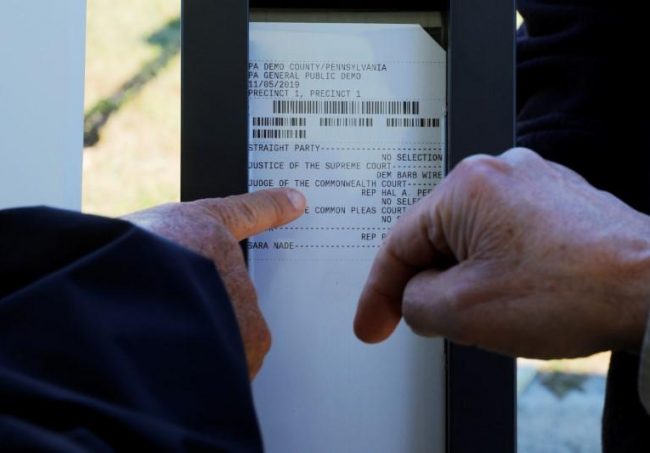 Election Systems & Software (ES&S) ExpressVote XL is an "all-in-one" voting device that combines touchscreen voting with integrated ballot printing, scanning, and tabulation capabilities. The most unique feature of the "XL" device is a very large 32" touchscreen display, which allows presentation of dense ballot information on a single screen. For the same reason, ExpressVote XL is especially popular in jurisdictions in the Northeast US, where "full-face ballots" are customary. This "all-in-one" device is typically used by jurisdictions that prefer voting with a paper trail, but who want to implement a fully-electronic voting experience for all voters, as an alternative to hand-marked paper ballots.
To begin the voting process, voters insert a blank thermal paper card; a voter's ballot style is often encoded on the blank card during the voter check-in process, so the ExpressVote XL automatically displays the proper version of an electronic ballot. ExpressVote XL allows voters to mark choices on a touchscreen display. After voters are finished marking all their preferred choices, the device presents a "review page" that allows voters to double-check their choices on their ballot. (And if voters skip any contests, the screen indicates "No selection made.") After voters have had the opportunity to review all choices on the summary page, voters select "Print Ballot" to print a summary paper record of their choices. The summary paper record is secured inside a self-contained attached module with a clear window, to allow voters to review their printed choices; the paper record is not directly accessible to voters.
ExpressVote XL can also be configured with additional accessible features for voters with disabilities. ExpressVote XL supports accessible voting through an optional tethered Audio-Tactile Interface (ATI), which is a "game controller" style console that includes tactile navigation buttons. The ATI can also support headphones for voters who are blind or visually impaired, or paddles or sip-and-puff devices for voters with dexterity impairments.
For all voters, ExpressVote XL prints thermal summary "cards" (which are more narrow than standard letter-size paper). The summary cards list voters' choice(s) in each contest (rather than all options, like a traditional format ballot), and ExpressVote XL encodes the voter choices in a non-human readable QR code. After voters review the printed record and are satisfied with their choices, they may select "Cast" to submit the vote. At that time, ExpressVote XL scans the paper summary card for tabulation, and drops the paper card into an attached receptacle.
ExpressVote XL tabulates paper cards by reading the computerized QR code, not the human-readable text that the voter sees. When the polls close, the machine can print out the race results and other information on a paper tape (if configured to do so).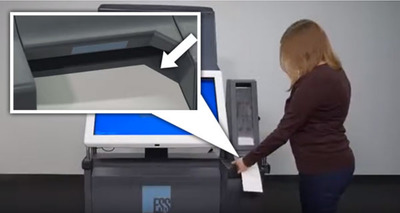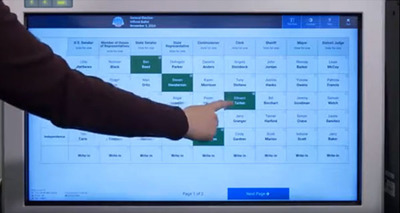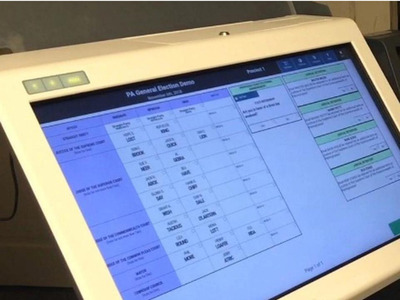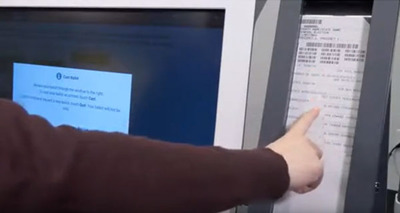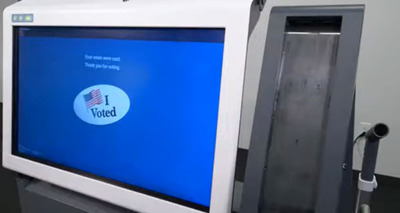 After you check in, a poll worker will direct you to a voting station and help you get started.
Make your selections by touching the screen.
Your selections will be highlighted in green.
After you make all of your selections, review them on the screen.
Check that you have voted all the contests you want to vote and confirm your selections.

You do not have to vote every contest.

Check the maximum number of candidates you are allowed to select for each office.

You may select fewer than the maximum number of candidates.
If you are satisfied with your selections, touch PRINT on the screen to print your ballot.
Your printed paper ballot will appear in the window to the right of the screen.
Confirm your selections on the printed ballot.
If you want to make a change after the ballot is printed, select SPOIL BALLOT.

This will alert a poll worker that you need help. You will have to start the voting process over.
Touch VOTE to submit your ballot. The ballot will be scanned and deposited into a
You will see a confirmation screen when your ballot has been cast.
A brief video of the voting process for the ExpressVote XL from Union County NJ
A full demo of the ExpressVote XL by the Philadelphia City Commission
Election Systems & Software was founded in 1979 as American Information Systems Inc. (AIS), it merged with Business Records Corp. the following year and changed its name to ES&S. It is now a subsidiary of McCarthy Group, LLC, and McCarthy Capital. As of 2007 it was the largest manufacturer of voting machines in the United States, claiming customers in 1,700 localities. As of 2007 it had approximately 350 employees; 2005 revenues were $117 million. ES&S announced its purchase of AutoMARK Technical Systems on January 28, 2008.