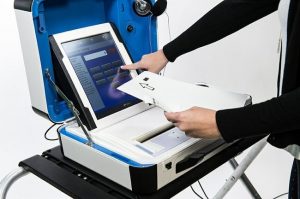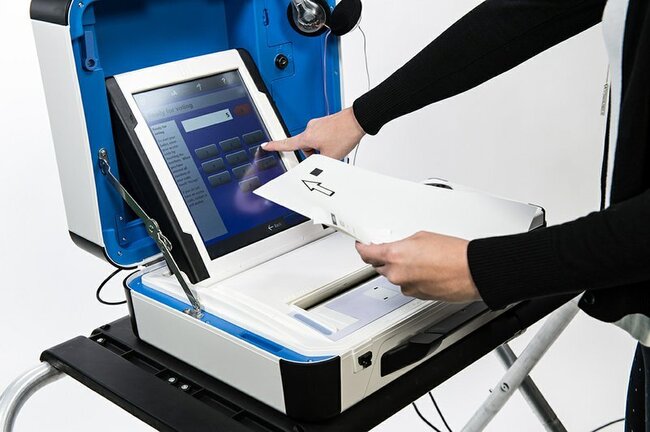 Hart InterCivic
Verity Scan
Make / Model: Hart Intercivic Verity Scan
Equipment Type: Hand-Fed Optical Scan Tabulator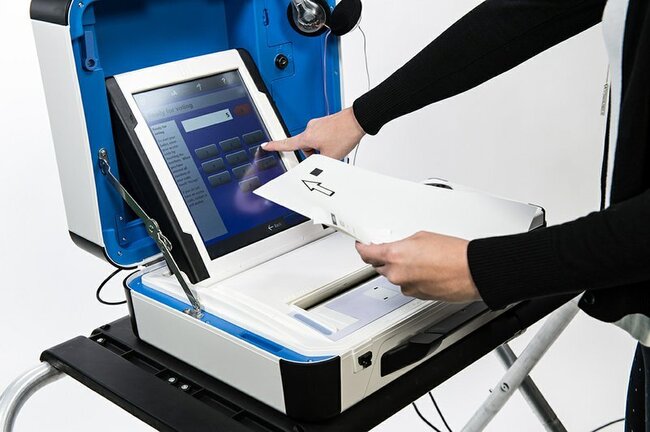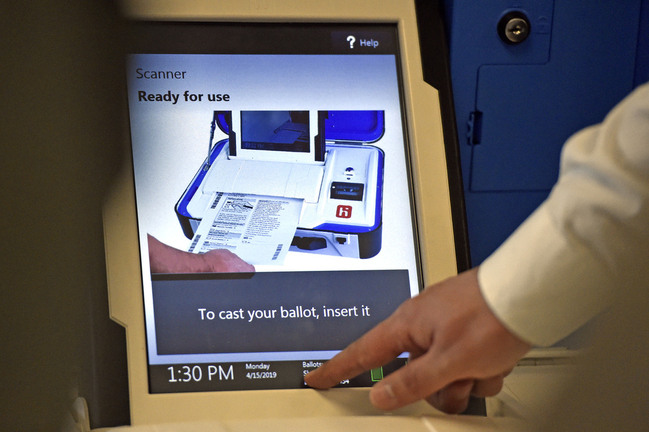 Verity Scan is a ballot scanning and tabulating device. It is used most often to support polling locations with voters who hand-mark paper ballots (typically distributed at the polling place check-in station). Voters hand-feed paper ballots into the scanner in order to cast the ballot. Ballots can be inserted into the Verity Scan in multiple orientations: face up, face down, header first, or footer first. The device simultaneously scans the front and back of a paper ballot, interprets voter marks, and communicates any issues that require the voter's attention back to the voter through an LCD display. For example, if the voter has marked too many choices in a race, the display lets the voter know this and offers the option to return the ballot for correction, or to cast the ballot. Verity Scan can also be configured to return ballots with too few choices, marginal marks, or entirely blank ballots.
Because the Verity Scan is a scanning device only, and does not have features that support marking choices on ballots, features that may be helpful to voters with disabilities are limited; Verity Scan is not marketed as an "accessible voting device." It does not have an audio-tactile controller, for example, and its audio features are limited to only making different "beeps" or "bell" sounds as ballots are scanned, or returned to the voter when marks require additional attention. The height and dimensions of Verity Scan's attached ballot box are designed to accommodate voters in wheelchairs, however.
After voters insert their marked paper ballots into the Verity Scan device, they will have a chance to review any potential mismarks that require attention. When voters cast ballots, Verity Scan pulls the ballot through a motorized feed and deposits the ballots into an integrated ballot box. Verity Scan has tabulating capabilities, and when the polls close, the machine can print out the race results and other information on a paper tape (if configured to do so).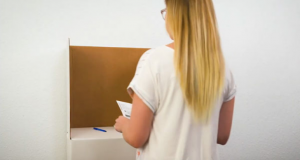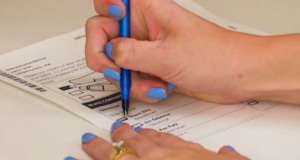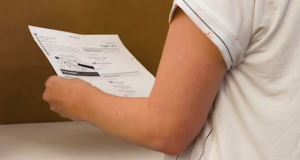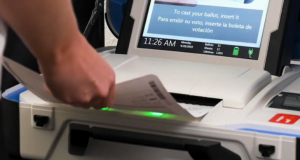 After you check in, a poll worker will hand you a ballot.
Take your ballot to a ballot marking station, where you will mark your ballot privately.
Completely fill the box next to each of your selections on the ballot.
Complete the front and back of all pages of the ballot.
Check that you have voted all the contests you want to vote and confirm your selections. You do not have to vote every contest.
Check the maximum number of candidates you are allowed to select for each office. Do not select more than the maximum number of candidates for each office. However, you may select fewer than the maximum number of candidates.
If you need to change a selection after you mark the ballot, ask a poll worker for a new ballot. Do not scan the ballot you want to change. Do not try to correct the ballot. Instead, give your spoiled ballot to the poll worker and make your selections again on the new ballot.
Take your completed ballot to the ballot scanner and insert it into the scanner. A poll worker may be nearby to help you.
If you see a message saying the ballot was NOT successfully cast, you may need to review your ballot again. If you do not understand the message on the screen, ask for help from a poll worker right away.
Your ballot is cast when you see a confirmation screen on the scanner.
(Source VotesPA.com)
Hart InterCivic Verity Scan Voting Instruction Video

Hart Verity Scan Poll Worker Training Video from Lancaster County, PA

Hart Intercivic
15500 Wells Port Drive
Austin, TX 78728
Phone: 512.252.6400, 800.223.HART
Fax: 512.252.6466
Hart entered the elections industry in 1912, printing ballots for Texas counties. The company, formerly a division of Hart Graphics, Inc., was established as a subsidiary called Hart Forms & Services in 1989, which, in 1995, changed its name to Hart Information Services, Inc. During the next five years, Hart Information Services acquired three election services providers: Texas County Printing & Services, Computer Link Corporation, and Worldwide Election Systems. Worldwide was the developer of the eSlate, Hart's direct recording electronic (DRE) voting solution. In 1999, the company spun off completely from Hart Graphics and in 2000, the company became Hart InterCivic Inc.