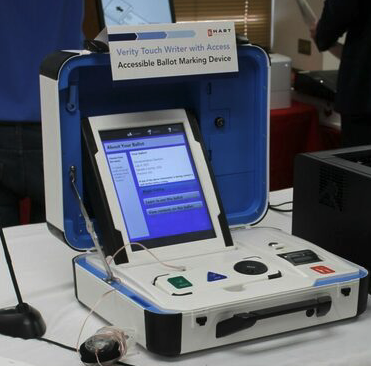 Hart Intercivic
Hart Intercivic Verity Touch Writer & Touch Writer Duo
Make / Model: Hart Intercivic Verity Scan, Touch Writer and Central
Equipment Type: Ballot Marking Devices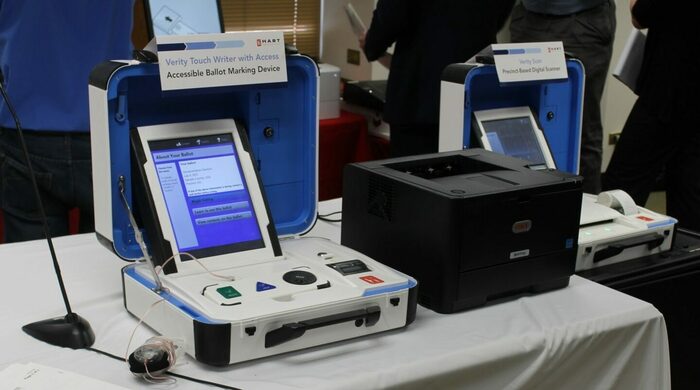 The Verity Touch Writer is a standalone precinct level Ballot Marker Device which also includes an Audio Tactile Interface (ATI), which allows voters who cannot complete a paper ballot to generate a machine-readable and human readable ballot, based on vote selections made, using the ATI. Once the voter has completed voting, their ballot is printed onto regular ballot paper and following the county's ballot processing procedures would be incorporated in the canvassing process.
1. After registration, take your ballot from the poll worker to the voting booth.
2. Make your selections by completely filling in oval next to the candidate's name with the pen provided. Make sure not to over-vote.
3. For write in candidates, fill in the oval next to Write-in and write the candidate's name there.
4. Review your selections for accuracy and completeness; you can ask a poll worker for a new ballot if you make a mistake.
5. Feed your ballot into the Optical Scanner/Tabulator to cast your vote. If you have mis-voted, the machine will return the ballot for review.

Hart Intercivic
15500 Wells Port Drive
Austin, TX 78728
Phone: 512.252.6400, 800.223.HART
Fax: 512.252.6466
Hart entered the elections industry in 1912, printing ballots for Texas counties. The company, formerly a division of Hart Graphics, Inc., was established as a subsidiary called Hart Forms & Services in 1989, which, in 1995, changed its name to Hart Information Services, Inc. During the next five years, Hart Information Services acquired three election services providers: Texas County Printing & Services, Computer Link Corporation, and Worldwide Election Systems. Worldwide was the developer of the eSlate, Hart's direct recording electronic (DRE) voting solution. In 1999, the company spun off completely from Hart Graphics and in 2000, the company became Hart InterCivic Inc.