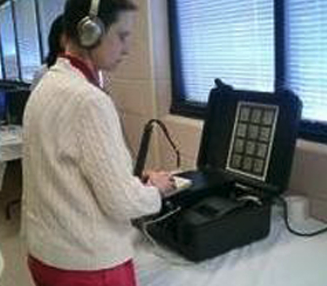 Inspire Voting Systems
Inspire Ballot Marking System
Make / Model: IVS Inspire Vote-By-Phone System & Inspire Ballot Marking System
Equipment Type: Ballot Marking Device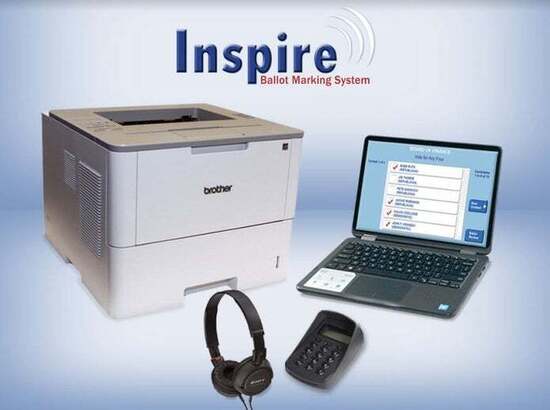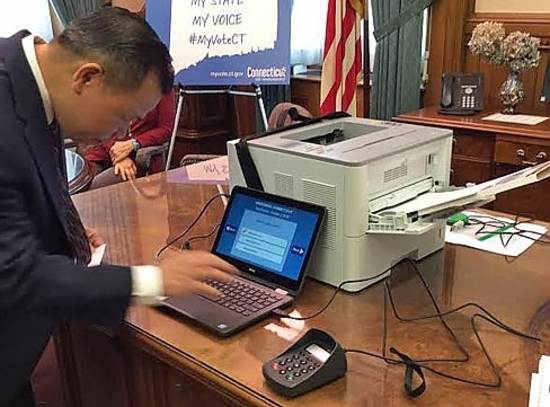 In November 2016 the State of Connecticut deployed the IVS Inspire Ballot Marking System for the first time. The Ballot Marking System uses the same software and assistive features as the Inspire Vote-By-Phone system but rather than working through telephone lines the system interfaces directly with a Brother printer to print a marked ballot, which is scanned along with other ballots in the polling place.
The Ballot Marking System includes a tablet and a keypad with headphones and voters may use the touch screen on the tablet, or by using the connected audio system on the keypad. The audio system, which includes headphones, works by a series of cues requiring voters to push different buttons on the telephone-style keypad to make choices for each office. Both the touchscreen and the audio provide voters with the opportunity to review and revise their choices.
Previously several states deployed a telephone-based assistive voting system designed and marketed by IVS, LLC is a telephone that was used in configuration with an optical scan voting system. Voters listened to the ballot through headphones and made their selections on a touchtone telephone-style keypad using the Inspire voting system. Selections were printed on a paper ballot, which the individual voter could read and review. Blind voters could review their selections using the printed ballot by scanning the barcode on each paper ballot and then listening to their selections being read back to them in the headphones. Paper ballots also contain human readable characters of voters' selections, so ballots could be manually counted and used for a recount if necessary.
The resulting ballots were either printed at a secure central location (Central Print) or via a fax at the polling site (Fax Print) depending on the configuration employed. With the Central Print option, ballots were printed at a secure central location with a cover page in order to protect voter privacy. Ballots were printed with a machine-readable bar code that was read back to the voter prior to their vote being cast. With the Fax Print option, the paper ballot was printed at the polling site, allowing the to verify their ballot is correct prior to casting it in the ballot box.
Demonstration of the Inspire Ballot Marking System
News Report on the Inspire Ballot Marking System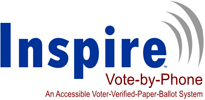 10001 Linn Station Road, Suite 205
Louisville, KY 40223
(888) 888-6952 (Toll Free)
(502) 426-7905 (Phone)
(502) 425-9549 (Fax)
ghart@ivsllc.com
IVS is a voting services company located in Louisville, Kentucky, that specializes in accessible voting systems. It was founded by CEO and President, Yung Nguyen, an inventor and entrepreneur.