Unisyn Voting Solutions
Unisyn OpenElect Freedom Vote Tablet
Make / Model: Unisyn OpenElect Freedom Vote Tablet
Equipment Type: Ballot Marking Devices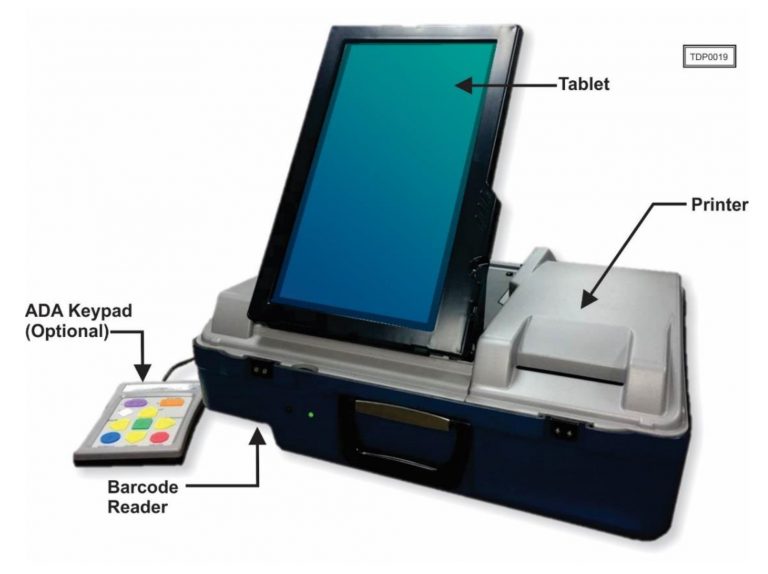 The OpenElect Freedom Vote Tablet (FVT) is a tablet ballot marking device that enables voters make their vote selections and to print their voted ballot.The FVT presents each contest on the ballot to the voter in visual and/or audio formats. It assists voters, with varying levels of ability, through the voting process, ballot review, and printing functions. The FVT presents each contest on the ballot style to the voter in visual and/or audio formats. It facilitates special needs voters through a variety of methods including wheelchair access, sip and puff, zoom-in ballot function and audio assistance for the visually impaired. The voter with limited vision can navigate through the ballot using an audio ballot and the ADA keypad or touchscreen to input their selections. Once the ballot is printed, it is taken to the OVO to be cast. Each FVT can support multiple languages for both visual and audio ballots, allowing the voter to choose their preferred language.
The FVT consists of an Android tablet with a 13.3 in. touchscreen, pre-installed with software that provides user interfaces for voting and maintenance. Election files generated by the EM are loaded manually via a USB. The election files will allow the jurisdiction to determine the FVT's mode such as early voting or training, sets passwords, parameters, audio, and ballot styles for that election. The FVT also includes a 2D USB Barcode reader to read the 2D barcodes produced by the EM such as the initialize barcode and administrative/maintenance barcodes. It will also read the 'populate' barcode produced by other qualified systems. The system includes a four port USB hub, installed in the FVT case to connect the printer, barcode scanner, and keypad to the tablet, a 82.5 mm thermal receipt printer is connected to the Tablet to print BMD ballots and reports, and, optionally, a 10-key keypad with Sip and Puff Interface, Headphones, and a separate Sip and Puff Device.
Unisyn Voting Solutions, Inc. is a wholly owned subsidiary of International Lottery & Totalizator Systems, Inc. On August 2, 2011, Unisyn announced a sales agreement with Henry M. Adkins and Son, Inc., under which Adkins will market, sell and provide services for Unisyn's OpenElect voting system suite. The Company designed the InkaVote Plus precinct ballot counter (PBC) which is currently used in Los Angeles County, California, and Jackson County, Missouri. The InkaVotePlus is now marketed by Election Systems and Software.