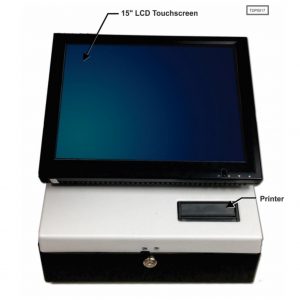 Unisyn Voting Solutions
Unisyn OpenElect OVI & OVI-VC
Make / Model: Unisyn OpenElect OVI & OVI-VC
Equipment Type: Ballot Marking Devices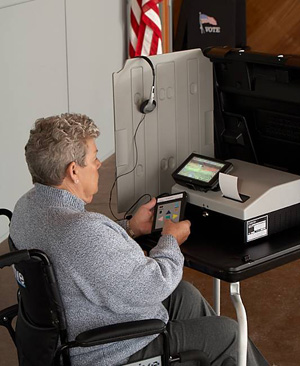 The Unisyn OpenElect Voting Interface (OVI) is a ballot marking device (BMD) that supports both ADA and In-Person Early Voting requirements. The first certified version of the OVI featured a 7 inch display (see image at left). With Version 1.1, Unisyn introduced a 15" LCD touchscreen as an option for OVI units (see below). The 15-inch display and is equipped to assist voters, with varying abilities, to prepare their ballots independently and privately. It presents each contest on the correct ballot to the voter in visual and, if needed, audio formats.
The OVI gives voters the option to use an audio ballot, ADA keypad, sip and puff binary device, and touchscreen with varying font sizes to make their selections. Once the voter has made their selections, they are prompted to review their ballot selections. After the validation process is complete, the OVI then prints the ballot and the voter inserts it into the OVO to cast their vote. When authorized, the OVI provides for write-in candidates. Each OVI can support multiple languages for both visual and audio ballots, allowing the voter to choose their preferred language.
The OVI consists of a personal computer, transport media, a printer and an uninterruptible power supply. The computer component (with a touch panel display) has pre-installed server software that manages data and communication and client software that provides user interfaces for voting and maintenance. A new election loaded via the Election Server or manually via a Transport Media (TM) sets passwords, parameters, audio, and ballot styles for that election. The transport media is a USB device with 1 GB or larger storage provides the means of transporting audit files to the OCS system and the printer is a 82.5 mm thermal receipt printer connected to the PC to print BMD Ballots and reports at the OVI. The ballots printed are narrower than standard ballots and contain a human readable summary of the voter's selections and a barcode.
By OpenElect Version 1.3, Unisyn has renamed the OVI the OpenElect Voting Interface- Vote Center (OVI-VC) and promoting it as a ballot marking device (BMD) that supports both ADA and Regional Early Voting requirements. Version 1.3 also notes that he computer on both the OVO and OVI utilizes a Mini-ITX form factor motherboard and is configured with either a VIA C7 motherboard or an Intel Atom.
Unisyn Voting Solutions, Inc. is a wholly owned subsidiary of International Lottery & Totalizator Systems, Inc. On August 2, 2011, Unisyn announced a sales agreement with Henry M. Adkins and Son, Inc., under which Adkins will market, sell and provide services for Unisyn's OpenElect voting system suite. The Company designed the InkaVote Plus precinct ballot counter (PBC) which is currently used in Los Angeles County, California, and Jackson County, Missouri. The InkaVotePlus is now marketed by Election Systems and Software.