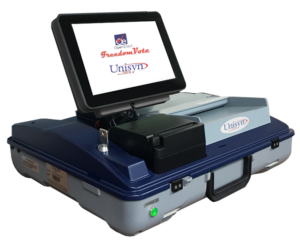 Unisyn Voting Solutions
Unisyn Voting Solutions OpenElect FVS
Make / Model: Unisyn Voting Solutions OpenElect FVS
Equipment Type: Hand-Fed Optical Scan Tabulator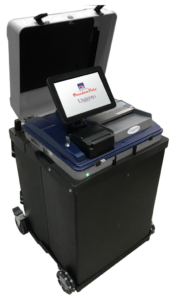 Unisyn Voting Solutions' OpenElect Freedom Vote Scan (FVS) is a ballot scanner. It is used most often in polling places for voters who hand mark paper ballots and use ballot marking devices (BMDs) for assistance. Voters hand feed paper ballots into the scanner to cast their ballots. The FVS is similar to Unisyn's OVO scanner, but is thinner, has a larger hard drive, and has a larger touchscreen mounted on the left side.
After voters insert their marked paper ballots into the FVS, they have a chance to review any potential mismarks that require attention. When voters cast ballots, the FVS pulls the ballot through a motorized feed and deposits the ballots into an integrated ballot box. The FVS is capable of operating at 400 dpi (dots per inch), which means it takes about two seconds to scan an 11″ ballot in 8-bit grayscale.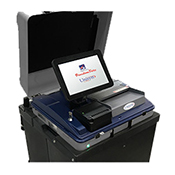 After a voter has hand marked their ballot or marked their ballot using a BMD, they insert the ballot into the FVS. The scanner will indicate that it has received the ballot without errors and the voters is thanked for casting their ballot.
Unisyn OpenElect FVS Voter Instructions
Unisyn OpenElect FVS Poll Worker Instructions
Unisyn Voting Solutions, Inc. is a wholly owned subsidiary of International Lottery & Totalizator Systems, Inc. On August 2, 2011, Unisyn announced a sales agreement with Henry M. Adkins and Son, Inc., under which Adkins will market, sell and provide services for Unisyn's OpenElect voting system suite. The Company designed the InkaVote Plus precinct ballot counter (PBC) which is currently used in Los Angeles County, California, and Jackson County, Missouri. The InkaVotePlus is now marketed by Election Systems and Software.