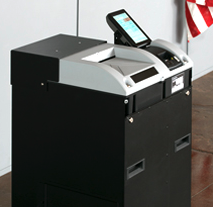 Unisyn Voting Solutions
OpenElect Optical (OVO)
Make / Model: Unisyn Voting Solutions OpenElect Optical (OVO)
Equipment Type: Hand-Fed Optical Scan Tabulator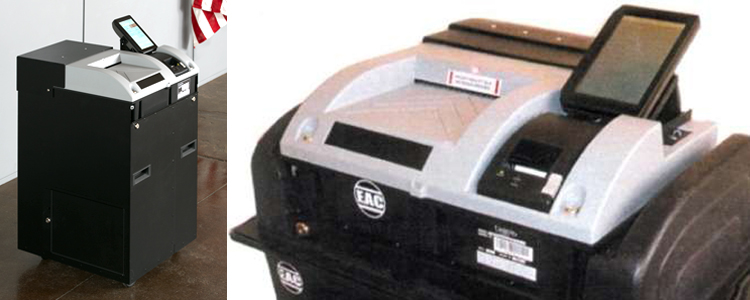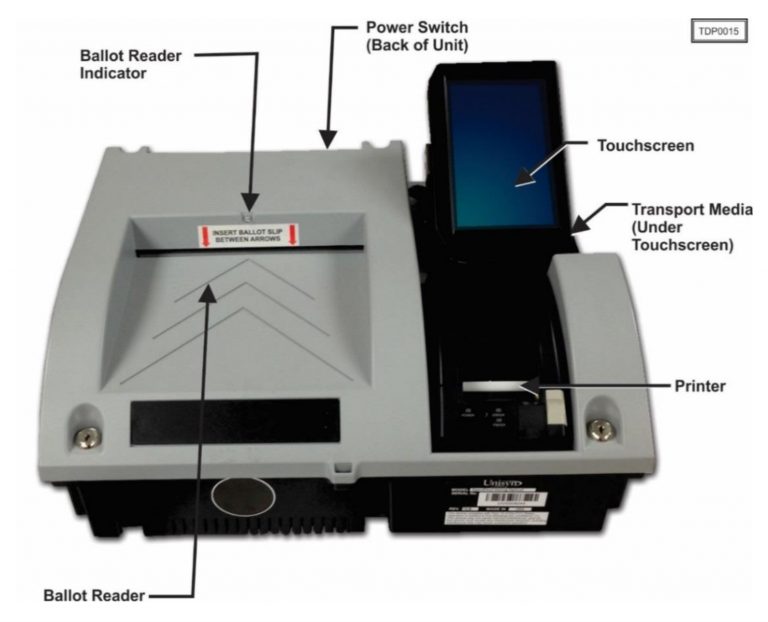 Unisyn Voting Solutions – OpenElect Optical (OVO) is a ballot scanning device. It is used most often to support polling locations with voters who hand-mark paper ballots (typically distributed at the polling place check-in station). Voters hand-feed paper ballots into the scanner in order to cast the ballot. Ballots can be inserted into OVO in multiple orientations: face up, face down, header first, or footer first. The device simultaneously scans the front and back of a paper ballot, interprets voter marks, and communicates any issues that require the voter's attention back to the voter through an LCD display. For example, if the voter has marked too many choices in a race, the display lets the voter know this and offers the option to return the ballot for correction, or to cast the ballot. OVO can also be configured to return ballots with too few choices, marginal marks, or entirely blank ballots.
Because OVO is a scanning device only, and does not have features that support marking choices on ballots, features that may be helpful to voters with disabilities are limited; OVO is not marketed as an "accessible voting device." It does not have an audio-tactile controller, for example, and its audio features are limited to only making different "beeps" or "bell" sounds as ballots are scanned, or returned to the voter when marks require additional attention.
After voters insert their marked paper ballots into OVO, they will have a chance to review any potential mismarks that require attention. When voters cast ballots, OVO pulls the ballot through a motorized feed and deposits the ballots into an integrated ballot box. OVO has tabulating capabilities, and when the polls close, the machine can print out the race results and other information on a paper tape (if configured to do so).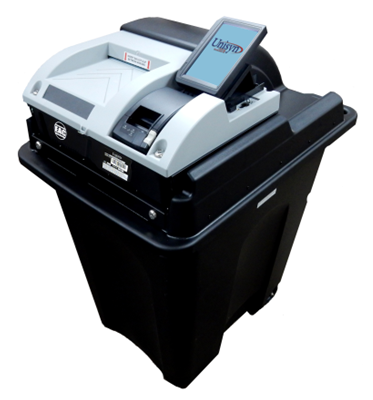 Once you have checked-In at the pollbook station and received your ballot go to a Ballot Marking Booth where a pen will be provided for you to mark your ballot. Follow the instructions at the top of your ballot. Fill in the oval to the right of the candidate's name of your choice. If you are writing-in a candidate's name please be sure to fill in the oval to the right of their name. Once you have marked your ballot take it to the OVO Scanner and insert it. (You may feed the ballot upside down to insure your privacy.) Wait until the scanner light turns from green to red back to green and the OVO screen thanks you for casting your ballot.
Unisyn Voting Solutions, Inc. is a wholly owned subsidiary of International Lottery & Totalizator Systems, Inc. On August 2, 2011, Unisyn announced a sales agreement with Henry M. Adkins and Son, Inc., under which Adkins will market, sell and provide services for Unisyn's OpenElect voting system suite. The Company designed the InkaVote Plus precinct ballot counter (PBC) which is currently used in Los Angeles County, California, and Jackson County, Missouri. The InkaVotePlus is now marketed by Election Systems and Software.
[/vc_column][/vc_row]