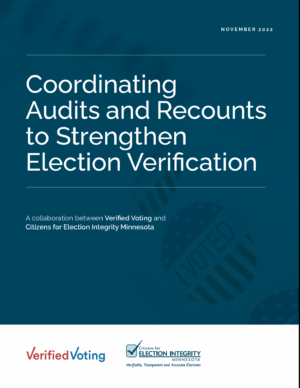 Coordinating Audits and Recounts to Strengthen Election Verification
Date: November 2022
Author: Verified Voting and Citizens for Election Integrity Minnesota
Issue: Post-Election Audit
Publication Summary
This paper explains how audits and recounts can work together to bolster public confidence in elections.
The 2020 presidential election was followed by an extensive period of scrutiny and challenge. Some of these activities were typical—automatic recounts, optional recounts, and routine tabulation audits—and some were highly irregular. Widespread misinformation sowed confusion and distrust. 
As election officials strive to promote public confidence in our elections, it is important to emphasize that recounts and tabulation audits are normal procedures, and they are vital to our elections. Recounts and audits, when properly designed and conducted, can help assure candidates and the public that there was a fair examination of the results and an accurate count of all legally cast votes. 
State requirements for tabulation audits have been expanding. Recounts are common and will continue to be part of the contentious post-election landscape. Elections need both audits and recounts, and they need audits and recounts to work well together. This paper describes how to dovetail audits and recounts to bolster public confidence in election results. Every state can do better, and this paper provides guidelines for how.