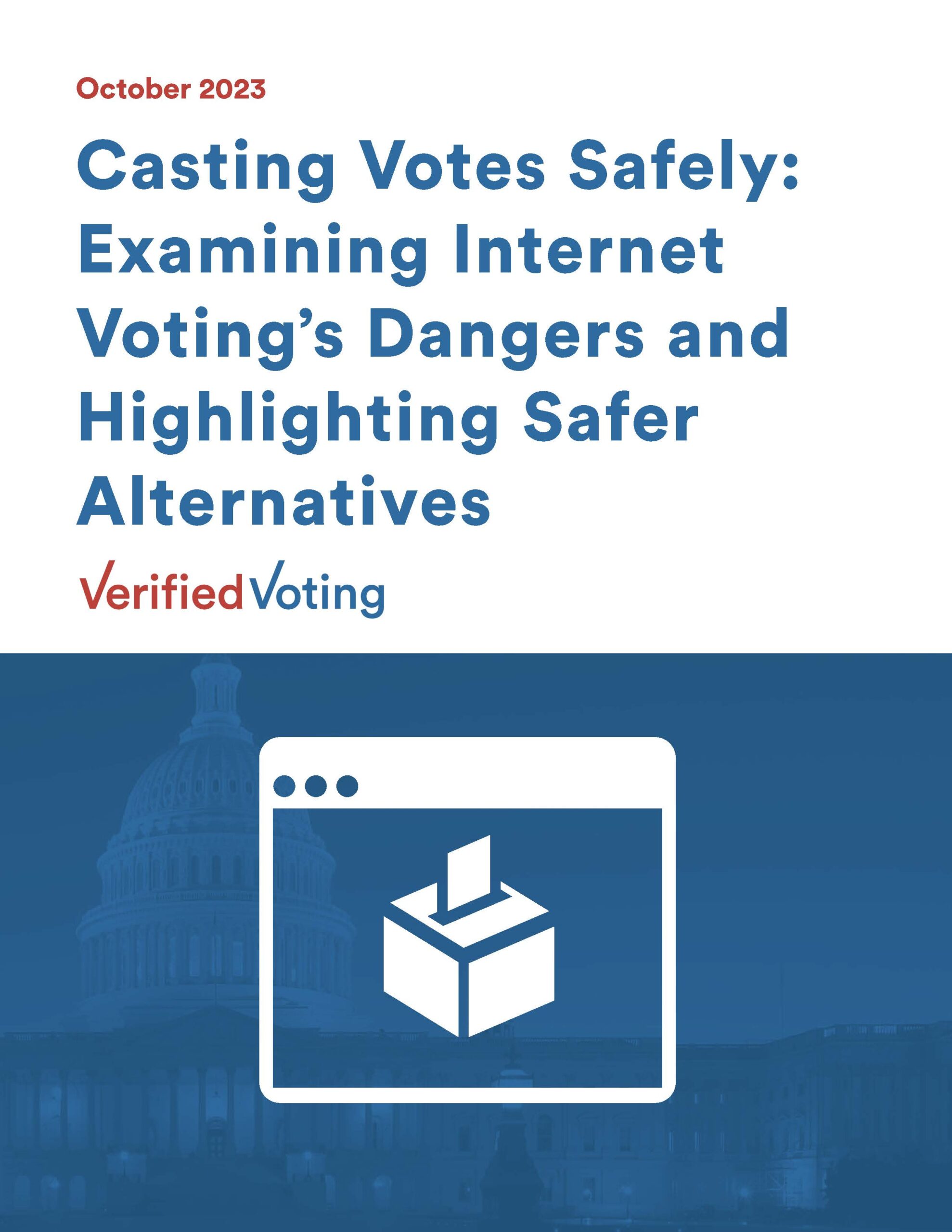 Casting Votes Safely: Examining Internet Voting's Dangers and Highlighting Safer Alternatives
Date: October 2023
Author: Verified Voting
Issue: Internet Voting
Executive Summary
Democracy depends on citizens' trust in our elections, the ability to cast a ballot without obstacles, and having verifiable proof that the winner won and the loser lost. If expanded, internet voting would undermine the fundamental principles of our democracy: private and trustworthy elections that give voters justified confidence that their votes were counted as cast. We address internet voting's dangers and discuss better options that enable voter enfranchisement while still protecting the security of our elections.
Section I summarizes notable consensus studies on internet voting, all determining that its adoption threatens the validity of our elections, and widespread usage could compromise our elections at scale. Privacy concerns arise from the challenge of maintaining both voter anonymity and verification of a voter's identity. An election's integrity could be compromised by malicious actors intercepting, altering, deleting—or even claiming to alter—online ballots.
Section II highlights the importance of accessible elections and prioritizing voter enfranchisement while preserving a voter's right to a secret ballot. It proposes seven options that jurisdictions could implement to serve voters who traditionally experience hardship when voting remotely:
Provide Remote Accessible Vote-by-Mail Options
Improve Options for Military and Overseas Voters
Bring Voting Devices Directly to Voters
Make All Voting Locations Fully Accessible
Ensure Accessible Equipment is Available and Functioning
Make Improvements to Ballot Marking Device Design and Deployment
Provide Transportation to Voting Locations
In conclusion, internet voting fails to deliver on both privacy and verifiability, and its widespread use would result in unprovable election outcomes. This report underscores the significance of safeguarding both the democratic process and public confidence in elections. It advocates for innovative solutions that enhance accessibility without compromising verifiability. As election security and public trust remain paramount, the report strongly recommends against internet voting.
Acknowledgements
We are grateful to the following individuals who reviewed and commented on this document prior to publication:
Michelle Bishop, National Disability Rights Network
Jeremy Epstein, National Science Foundation
Dr. Justin Moore
The statements and recommendations in this document are from Verified Voting and do not necessarily reflect the views of these individuals or their employers, including the United States government. Their organizations are listed for identification purposes only.