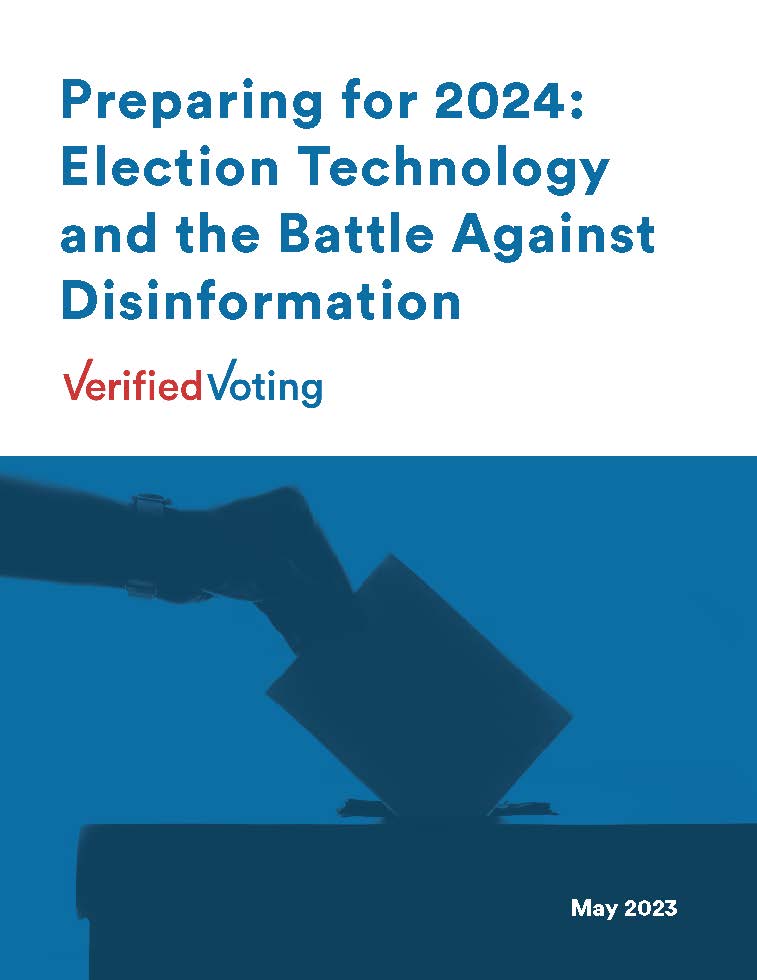 Preparing for 2024: Election Technology and the Battle Against Disinformation
Date: May 2023
Author: Verified Voting
Issue: Voting Equipment, Post-Election Audit, Paper Records
Publication Summary
In 2024, U.S. elections are on track for the most secure and resilient use of election equipment yet.
Our paper explains how, despite continued disinformation about the security of voting systems, U.S. voting equipment deployment has become more resilient over time—and how, with the right resources, election officials can make more improvements to how elections are administered ahead of the 2024 elections.
Introduction
As we reflect on the 2022 midterm election and look ahead to the 2024 presidential election, we acknowledge the substantial progress made in how election technology is deployed to support secure, transparent, and accurate elections. However, we remain concerned about the increasing prevalence of false allegations of election equipment fraud and procedural malfeasance by those who seek to undermine the legitimacy of our electoral process. Despite overwhelming evidence to the contrary, these election deniers continue to propagate baseless claims and conspiracy theories that erode public trust in our democracy.
With the 2024 primaries just one year away, our elections face another round of attacks from election deniers, but further action can help withstand these attacks to our democracy. Below, we analyze how U.S. elections have been made more resilient over time, how voting technology issues played out in the 2022 election, and our recommendations for counties, states, and the federal government ahead of the 2024 election. With governments at all levels working to improve election equipment and administration, we can collectively help combat mis- and disinformation and bolster public confidence.