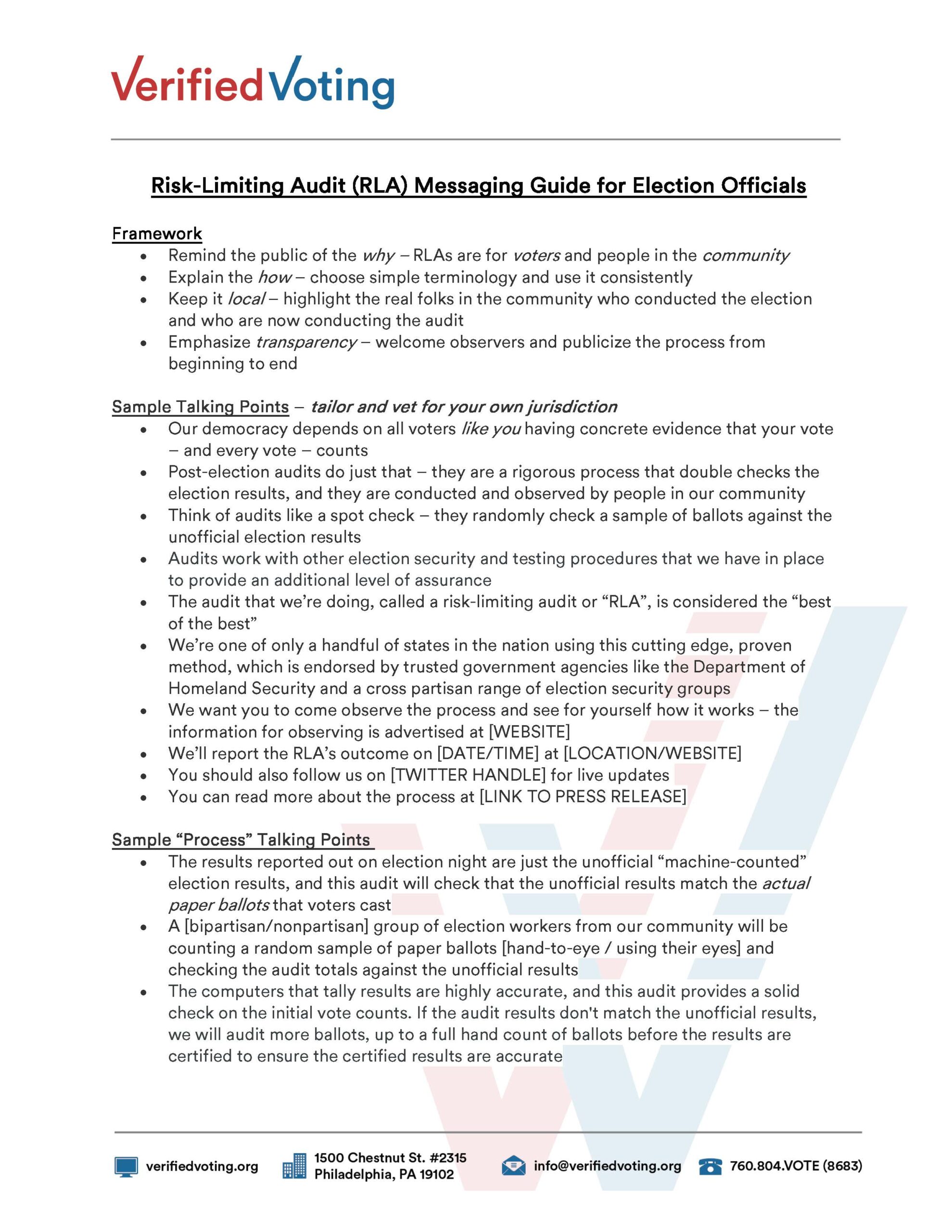 Verified Voting's Risk-Limiting Audit Messaging Guide for Election Officials
Date: updated February 1, 2023
Author: Verified Voting
Issue: Post-Election Audit
Publication Summary
A messaging guide to help election officials talk to their constituents, the press, and other key stakeholders about risk-limiting audits.
Framework
Remind the public of the why – RLAs are for voters and people in the community
Explain the how – choose simple terminology and use it consistently
Keep it local – highlight the real folks in the community who conducted the election and who are now conducting the audit
Emphasize transparency – welcome observers and publicize the process from beginning to end
Sample Talking Points – tailor and vet for your own jurisdiction 
Our democracy depends on all voters like you having concrete evidence that your vote – and every vote – counts
Post-election audits do just that – they are a rigorous process that double checks the election results, and they are conducted and observed by people in our community
Think of audits like a spot check – they randomly check a sample of ballots against the unofficial election results
Audits work with other election security and testing procedures that we have in place to provide an additional level of assurance
The audit that we're doing, called a risk-limiting audit or "RLA", is considered the "best of the best"
We're one of only a handful of states in the nation using this cutting edge, proven method, which is endorsed by trusted government agencies like the Department of Homeland Security and a cross partisan range of election security groups
We want you to come observe the process and see for yourself how it works – the information for observing is advertised at [WEBSITE]
We'll report the RLA's outcome on [DATE/TIME] at [LOCATION/WEBSITE]
You should also follow us on [TWITTER HANDLE] for live updates
You can read more about the process at [LINK TO PRESS RELEASE]
Sample "Process" Talking Points 
The results reported out on election night are just the unofficial "machine-counted" election results, and this audit will check that the unofficial results match the actual paper ballots that voters cast
A [bipartisan/nonpartisan] group of election workers from our community will be counting a random sample of paper ballots [hand-to-eye / using their eyes] and checking the audit totals against the unofficial results
The computers that tally results are highly accurate, and this audit provides a solid check on the initial vote counts. If the audit results don't match the unofficial results, we will audit more ballots, up to a full hand count of ballots before the results are certified to ensure the certified results are accurate
Quick Hits 
RLAs promote public confidence in election outcomes and public confidence in our democracy
RLAs check that the winners won and the losers lost
RLAs ensure the integrity of the election results
RLAs provide solid evidence that the reported election outcomes are correct
RLAs are transparent and observable by the public
RLAs are cost-efficient and save taxpayer dollars
RLA Pilots
RLA pilots are "test runs" that happen in election jurisdictions across the country that are not binding on the election outcome
RLA pilots help election workers prepare for full RLAs in larger elections
RLA pilots are also an opportunity for the elections office to communicate to constituents about the importance of post-election audits, including RLAs, and show that the processes are observable and transparent
Want a deeper dive? Here's how RLAs differ from other audits:
Unlike some procedures that simply rescan and retabulate ballots, RLAs examine paper ballots hand-to-eye to ensure that machine-tabulated results align with the paper ballots
RLAs are designed to provide high assurance of correct election outcomes even in close contests
An RLA can also trigger a full hand recount if the sampled ballots do not match the reported outcome
RLAs allow jurisdictions to save time and resources by checking more ballots when needed in close contests, and fewer ballots in contests with wider margins
Read more about how true audits like RLAs are different from sham reviews here
Terminology
Tabulation audit – Provides a routine check on the accuracy of the tabulation of votes by manually comparing voter-verifiable paper ballots to the computer-reported results
Risk limit – The "risk limit" describes the chance that the audit is wrong. For instance, a 5% risk limit means that if the election outcome is wrong, the chance that the audit will mistakenly confirm it is 5% or less. We usually avoid these specifics with a general audience
Recount – A full recount means counting all of the ballots, while an audit only entails counting some of the ballots. Post-election audits that detect errors can lead to a full recount if the outcome is in doubt
Sample size & margin of victory – Close contests, where the winner's margin of victory is small, require looking at larger samples of ballots to check the outcome
Who Endorses RLAs – A Non-Exhaustive List
U.S. Department of Homeland Security
U.S. Senate Select Intelligence Committee
Presidential Commission on Election Administration
American Statistical Association
R Street Institute
League of Women Voters
For more information on risk-limiting audits, visit www.verifiedvoting.org/audits. For questions or feedback on messaging, contact Verified Voting Communications Officer Corrie Emerson at corrie@verifiedvoting.org.