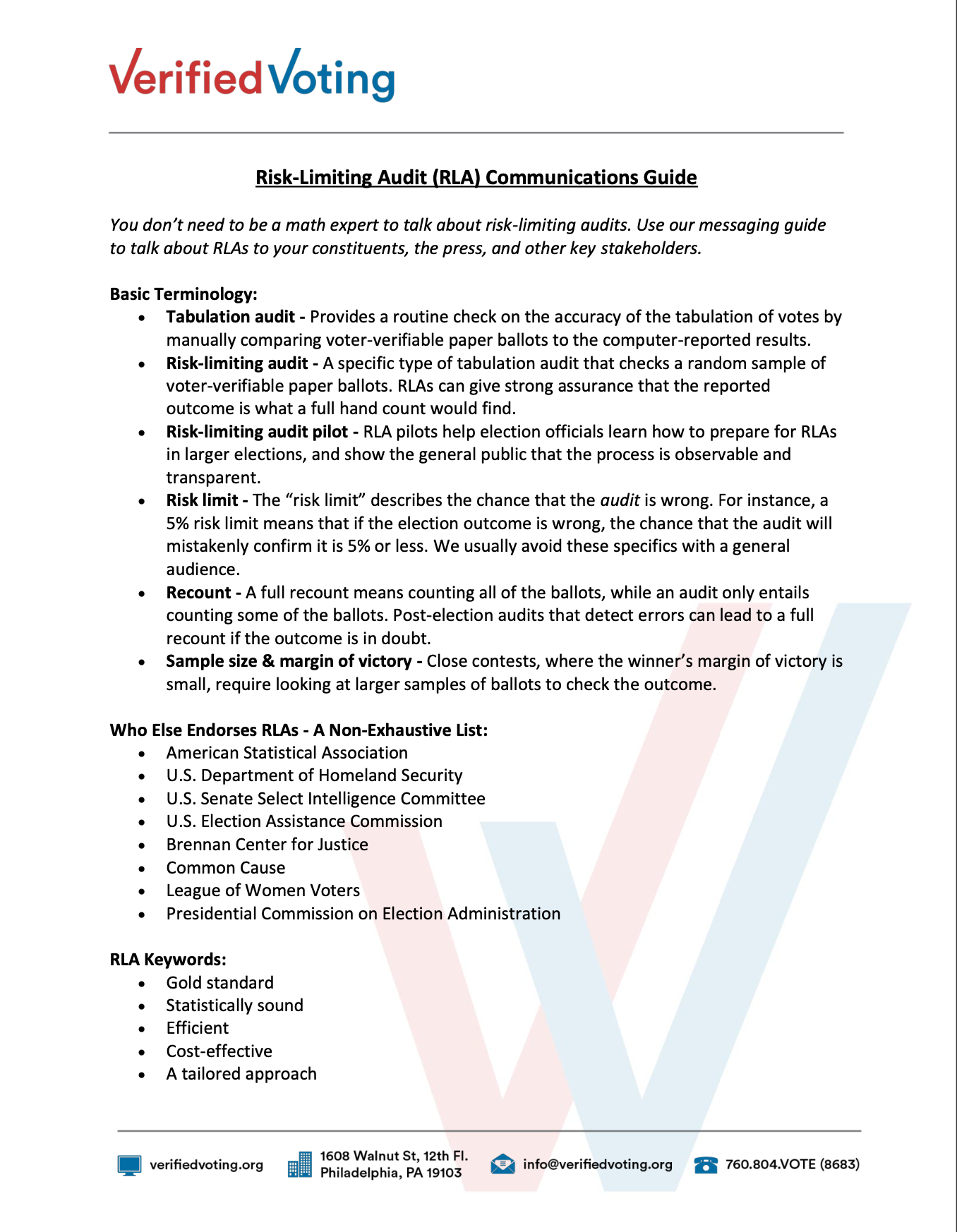 Verified Voting's Risk-Limiting Audit Communications Guide
Date: September 28, 2020
Author: Verified Voting
Issue: Post-Election Audit
Publication Summary
You don't need to be a math expert to talk about risk-limiting audits. Use our messaging guide to talk about RLAs to your constituents, the press, and other key stakeholders.
Basic Terminology:
Tabulation audit – Provides a routine check on the accuracy of the tabulation of votes by manually comparing voter-verifiable paper ballots to the computer-reported results.
Risk-limiting audit – A specific type of tabulation audit that checks a random sample of voter-verifiable paper ballots. RLAs can give strong assurance that the reported outcome is what a full hand count would find.
Risk-limiting audit pilot – RLA pilots help election officials learn how to prepare for RLAs in larger elections, and show the general public that the process is observable and transparent.
Risk limit – The "risk limit" describes the chance that the audit is wrong. For instance, a 5% risk limit means that if the election outcome is wrong, the chance that the audit will mistakenly confirm it is 5% or less. We usually avoid these specifics with a general audience.
Recount – A full recount means counting all of the ballots, while an audit only entails counting some of the ballots. Post-election audits that detect errors can lead to a full recount if the outcome is in doubt.
Sample size & margin of victory – Close contests, where the winner's margin of victory is small, require looking at larger samples of ballots to check the outcome.
Who Else Endorses RLAs – A Non-Exhaustive List:
American Statistical Association
U.S. Department of Homeland Security
U.S. Senate Select Intelligence Committee
U.S. Election Assistance Commission
Brennan Center for Justice
Common Cause
League of Women Voters
Presidential Commission on Election Administration
 RLA Keywords:
Gold standard
Statistically sound
Efficient
Cost-effective
A tailored approach
 What can you say about an RLA?
An RLA provides solid evidence that the reported election outcomes are correct.
An RLA can also trigger a full hand recount if the sampled ballots do not match the reported outcome.
An RLA promotes public confidence in election outcomes and public confidence in our democracy.
An RLA checks that the ballots were counted accurately.
RLAs are transparent and observable by the public.
An RLA is a tool for election officials.
What can't you say about an RLA?
Because RLAs rely on the ballots, they can only do so much. They can't do the following: 
Establish that the voting system is inherently secure and reliable.
Confirm that voter intent was recorded accurately.
Show that voters were not disenfranchised.
Read more about audits and RLAs at:
https://verifiedvoting.org/audits/whatisrla/
Questions? Feedback?
Contact Verified Voting Communications Officer Corrie Emerson at corrie@verifiedvoting.org.