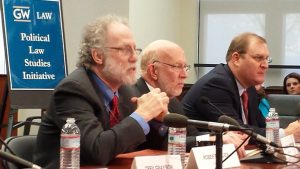 Today's landmark report by the Presidential Commission on Election Administration (PCEA), The American Voting Experience: Report and Recommendations of the Presidential Commission on Election Administration, recognizes many of the obstacles and opportunities in today's election administration universe, and proposes several excellent approaches to solving some of those challenges.
"We applaud the bi-partisan Commission's substantial work, balancing the need for secure elections with positive ways to improve voting for all," said Pamela Smith, President of Verified Voting. "We strongly agree that military and overseas voters can be supported by providing access to online registration and distribution of information including blank ballots online, and appreciate that the Commission also notes that 'the internet is not yet secure enough for voting.'" (p. 60)
Another key point made by the Commission was to recommend "Audits of voting equipment must be conducted after each election, as part of a comprehensive audit program, and data concerning machine performance must be publicly disclosed in a common data format." (p. 79) Verified Voting's post-election audit research and analysis is cited in the endnotes, as is the "Evidence-Based Elections" White Paper co-authored by UC Berkeley Professor Philip Stark, who is a member of VV's Board of Directors.
Verified Voting provided input directly to the PCEA and via its role in the Future of California Elections (FOCE) project, funded by the James Irvine Foundation. In a panel presentation at a FOCE listening session for the PCEA, Smith provided information about emergency preparedness in elections, including information from VV's Counting Votes report, funded by the MacArthur Foundation. Additional information regarding the FOCE testimony, post-election audits and voting technology is on the PCEA website.