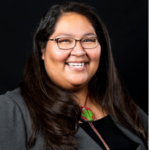 We are privileged to work closely with election officials every day and their work to safely and securely administer our elections goes far beyond what voters see on Election Day. To shine a light on the important role they play in our democratic process, we launched this Q&A series highlighting their work. Here, Pima County, AZ Recorder Gabriella Cázares-Kelly tells us about her work:
Tell us how you got involved with election administration.
I worked as an academic advisor at a community college on a reservation, which had about 300 mostly native students. The reservation is about the size of Connecticut, minus any of the roads or internet infrastructure. We helped host a voter registration table at the college, and the experience made me gain interest in elections, and particularly how they impact the native community. We ran into many problems when trying to help people register to vote and the answers weren't easily found at our county's office. I started community organizing and this issue kept coming up – politicians weren't listening to the native community because we weren't a large enough voting bloc; meanwhile, the native community was underrepresented because of barriers to voting. I care deeply about this community and voting, and when I found out the previous recorder was leaving, I ran for office and won in 2020.

What's unique about Pima County?

We're the second largest county in Arizona with around one million residents and 630,000 registered voters. We have a mix of urban and rural voters from the Tucson area and two tribal reservations — one of which I'm originally from! We have 27 days of early voting and no-excuse vote by mail, which about 75% of Pima County residents use. For in person voting, this will be the first year we're implementing vote centers. 
I'm very aware of life in rural communities. We see huge infrastructure gaps, struggle with internet connectivity, and deal with extreme weather. We get monsoons that make travel very difficult and temperatures reach 120 degrees in the summer. We're accustomed to it, but during the elections, it has a huge impact on voting processes.
What challenges do constituents have with voting access in your locality and what do you do to overcome those barriers?
In tribal communities, there was a lack of understanding about what registering to vote actually means, since tribal communities also hold their own elections. They also have limited access to voter registration forms because reservations don't have things like the DMV or libraries, and lack basic services for the most vulnerable. Many also don't have standard addresses or proper ID. The legislature recently changed the law so you can now register online to vote if you have a nonstandard address, and we're still trying to reach people about this change. 
We've also increased communications to formerly incarcerated individuals so they know their voting rights. We've encountered people who think they don't have the right and have registered many people who actually were eligible. It's a really big problem when you have a state like ours that's driven by the corrections economy. We reach voters where they are with the information they need in a user-friendly and understandable way — not legalese! Many informational pieces also need to be translated into multiple languages. We've also increased our real-time updates for constituents.

As administrators of our democracy, election officials' work is so important to carry out our democratic process. How does that responsibility shape your approach to your work?
Everything I do in my life revolves around equity and ensuring that people have what they need to thrive. We're here to serve everyone in our community and the staff takes it seriously. I'm from a marginalized community and I'm practical, logical, and communicative. I want to make sure that people understand the messaging we're putting out and I want it to be in "real person" language that's accessible and fun. I also want to change the culture around voting. There are still so many roadblocks to voting – both real ones and mentalities that keep people from participating. A community needs a voice and its leadership needs to reflect the people it serves.

Have you experienced any election workers leaving their jobs in your office?

We haven't seen credible death threats in Pima County, not like you see in other counties like Maricopa County. That's not to say we don't have angry constituents calling – our workers are often subjected to abuse from callers. People seem angry with "the system" and our workers are overly scrutinized for no reason, which is incredibly weighing and we've had some folks retire from their jobs. We've introduced trainings and protocols to follow when we receive racist phone calls to help protect our staff. We also increased internal communications that emphasize the community we serve and why we do the work we do, and we document and share all of the positive stories that we hear from our constituents.
Americans are hearing a lot about the administration of our elections. What don't Americans know about the election process in your county that you wish they did?

We're open and transparent about our processes and the checks and balances we have here to make our elections trustworthy. There's also never any downtime. We're constantly updating voter rolls, verifying signatures, and sharing information that the community is hungry for. There's a huge focus on people claiming election fraud and it's tempting to give oxygen to them, but our office is focused on helping the people who aren't participating in elections or don't know how to participate and giving them the information they need. 

If you, like us, know how important election officials are for our democracy – consider thanking them for their service. Find your local election official at www.verifiedvoting.org/verifier and send them a note of appreciation for all of the work they do. Feel free to send suggestions for other election official heroes we can interview to corrie@verifiedvoting.org.