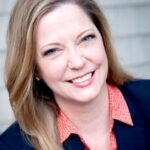 We are privileged to work closely with election officials every day and their work to safely and securely administer our elections goes far beyond what voters see on Election Day. To shine a light on the important role they play in our democratic process, we launched this Q&A series highlighting their work. Here, Karen Brinson Bell, Executive Director of North Carolina's State Board of Elections, tells us about her work:
Tell us about how you got involved with election administration.
I grew up in a family that was deeply involved in government and elections, so it's always been part of my life. My father was the mayor of the small town where I was born, and my parents served as precinct officials. I became involved in elections in 2006 through providing training and field support for the rollout of new voting equipment that North Carolina purchased with Help America Vote Act (HAVA) funding. I went on to become a county elections director and then a consultant for ranked choice voting. I've been the state's executive director and chief elections official since 2019, which is a role appointed by the State Board of Elections.
As administrators of our democracy, election officials' work is so important to carry out our democratic process. How does that responsibility shape your approach to your work?
It's something I'm mindful of every day. My family instilled in me the importance of voting, being civically engaged, and being a part of your community. To work in this field, to interact with voters, and to see the moments that give voters pride to exercise their right to vote – it's a precious thing. I work with a group of people who are dedicated to giving every single voter in North Carolina free, accessible, and fair elections.

There continues to be an unusual amount of press focused on how votes are cast, counted, and audited. What would you like voters to know about how your state implements transparency and accountability?
We've been very clear from the beginning that fake audits cropping up across the country are not within North Carolina's laws. We have strong audit practices and have held very firm that our election results in 2020 were free, fair, accurate, and certified. State statute requires a random audit sample in every county and we report those results publicly.
If funding was limitless, what would you like to change or have implemented in your state's processes or infrastructure to make your elections more secure?
We need better pay for our county election directors and their staff. The responsibilities they carry out are far beyond the administrative classification that elections are historically put in – they are critical infrastructure.
We also need a consistent dedicated flow of funds for election cybersecurity work. We don't stop our monitoring and prevention efforts after Election Day. It's a continual process and we don't want any aspect of our office attacked.
Counties could also use more consistent funding to ensure secure voting systems. The HAVA funding in the 2000s was substantial enough for counties to purchase new voting systems, but there's room for improvement. HAVA grants in 2018 and 2020 were not enough to cover a full replacement of voting equipment in addition to the cyber and other security needs. These areas need consistent funding so we can plan accordingly and not continue to "do more with less."

These days, Americans are hearing a lot about the administration of our elections. What don't Americans know about the election process in your state, that you wish they did?
Most of our work is done behind the scenes. We're a bipartisan group and it's a highly coordinated effort to ensure that our elections run smoothly – from the state, to county officials, to the poll workers on Election Day. We have one state board and 100 county boards working together, completing routine trainings, and collaborating with other states to continually improve our processes. Election workers don't know what the outcome will be until all the votes are in – we just know that we are here to carry out the democratic process. We're absolutely committed to making sure North Carolinians can exercise their right to vote and have confidence in the election results.

If you, like us, know how important election officials are for our democracy – consider thanking them for their service. Find your local election official at www.verifiedvoting.org/verifier and send them a note of appreciation for all of the work they do. Feel free to send suggestions for other election official heroes we can interview to corrie@verifiedvoting.org.