We are privileged to work closely with election officials on a daily basis. Their work to safely and securely administer our elections goes far beyond what voters see on Election Day – and, as we saw in 2020, can at times come at great personal risk.To shine a light on the important role they play in our democratic process, we launched a Q&A series highlighting their work.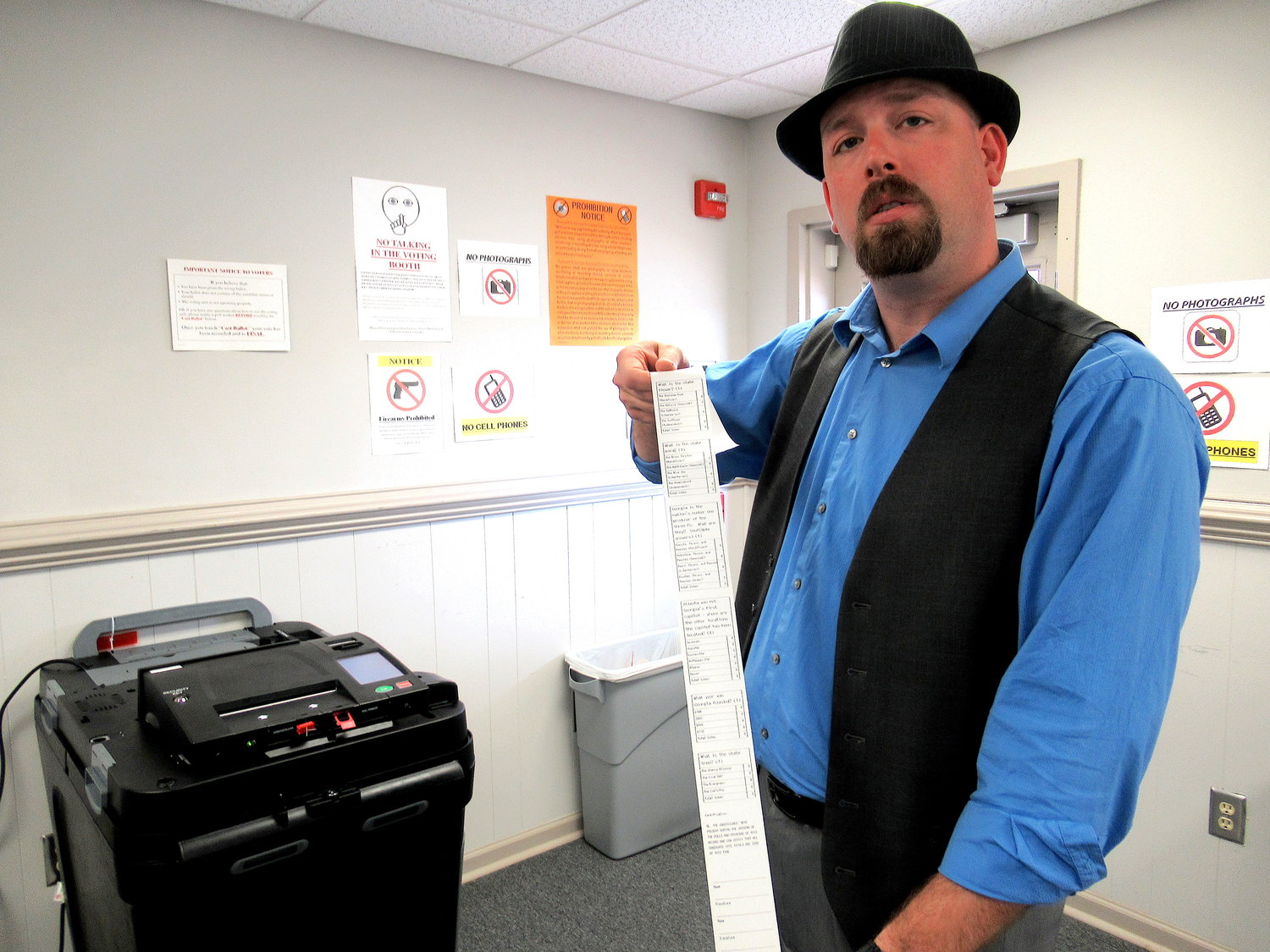 Here's Joseph Kirk, Bartow County, Georgia's Election Supervisor, who worked with Verified Voting on Bartow County's first risk-limiting audit pilot in November 2019 and on the full hand-count statewide risk-limiting audit following the November 2020 election:
Tell us how you got involved with election administration.
This was a bit by happenstance – I first got involved in elections during the summer of 2002 when I was hired by the Center for Election Systems, which at the time was housed by Kennesaw State University. Although I was working toward a Computer Science degree, I chose to stay in elections because I was bitten by the "elections bug" that so many of us fall victim to. After I graduated, I moved to Mississippi where I worked for the Secretary of State implementing their voting system. In 2007, I took over as the Elections Supervisor in Bartow County, Georgia to be closer to my family. I've been here ever since.
As administrators of our democracy, election officials' work is so important to carry out our democratic process. How does that responsibility shape your approach to your work?
It keeps pressure on me to make sure I'm doing my job to the best of my ability – every election – every day. In big elections the weight of democracy is a tangible thing that I actually feel.

These days, Americans are hearing a lot about the administration of our elections. What don't Americans know about the election process, that you wish they did?
While Americans may be hearing a lot about election administration these days, the information they are receiving may not always be accurate. There is a vacuum of public knowledge about how elections work that is easy for anyone with a keyboard to fill through social media. I wish everyone had a basic knowledge of elections – the rules for voter registration, the different options available to them for casting their ballot, the processes open to observation, and who to contact with questions. If the public knew this information, it would be a lot harder for misinformation to spread online.
Tell us about your experience conducting a risk-limiting audit (RLA) with Verified Voting. Was there anything that surprised you about the auditing process?

I had a great experience piloting the RLA for Georgia in late 2019. We spent months getting ready for it – attending meetings, reading papers, and trying to learn what exactly an RLA was – and when the time finally came, it ended up being an easy process. We were observed by election officials from other counties as well as the Secretary of State's Office, one of the state parties, and our local media outlets. We audited a small municipal race and did two separate types of audits in about half a day. Having Mark and Monica there for the audit made a huge difference – they explained things in a way that made it easy for everyone to understand the process, even if they weren't familiar with audits. I think the thing that surprised me the most was coming out of a single pilot knowing that I could easily keep doing them, in large part because I had support from the Secretary of State's Office, Verified Voting, and VotingWorks.
What are the biggest challenges you've encountered in administering elections?
The biggest challenge is trying to educate voters. People seem to think that we only have an election every four years or they don't have any responsibilities as a registered voter. This is simply untrue. We want to educate voters so that they aren't surprised by any of the legal requirements surrounding voting or discouraged from turning out.

How can Americans support election officials in their work to implement democracy?
First, voters should understand the steps involved in conducting an election and engage in the process in some way. They can observe a polling place, the logic and accuracy testing, or how we count the absentee ballots. They could even work as a poll worker. Everyone can also help by spreading trusted information rather than misinformation. I realize that sharing posts about election deadlines and legal processes isn't as fun as sharing the latest conspiracy theory about how someone lost. But every questionable theory hurts all of us – the election officials, the candidates, and especially the voters. Information from trusted sources like election officials or federal agencies has to be prioritized.
We've seen a lot of press about election administrators facing threats to their personal safety. How does this subversive rhetoric affect your job?
Thankfully, it does not affect us as much as it has other jurisdictions. That being said, threats of violence against election officials are never acceptable – no matter what someone thinks they may or may not have done. We had discussions about what to do if the worst happened and are revisiting our polling place security procedures because of an incident that occurred on election night when a poll manager was followed and almost run off the road. Every one of my employees has a bomb threat checklist by their phone and knows where the panic buttons are in the office. As a general rule, election administration shouldn't involve life and death decisions and having to make them makes my job infinitely harder.

There has been an unusual amount of press this year focused on ballot processing and tabulation. What would you like voters to know about how your office implements transparency and accountability? What systems are in place to ensure that every vote is counted?
We take transparency and accountability extremely seriously, and I think anyone who interacts with us knows that. Having such a good reputation going into 2020 helped tremendously when our office faced massive scrutiny and unwarranted attacks. Transparency isn't a decision – it's a lifestyle choice. We make an effort to accommodate anyone who wants to observe our work as long as they are legally allowed to do so and we also document anything that goes wrong to hold ourselves accountable. I hope that all the folks that were fired up about the results of the 2020 election continue to remain engaged even when things aren't as emotionally charged as they are now.
If you, like us, know how important election officials are for our democracy – consider thanking them for their service. Find your local election official at www.verifiedvoting.org/verifier and send them a note of appreciation for all of the work they do. Feel free to send suggestions for other election official heroes we can interview to corrie@verifiedvoting.org.