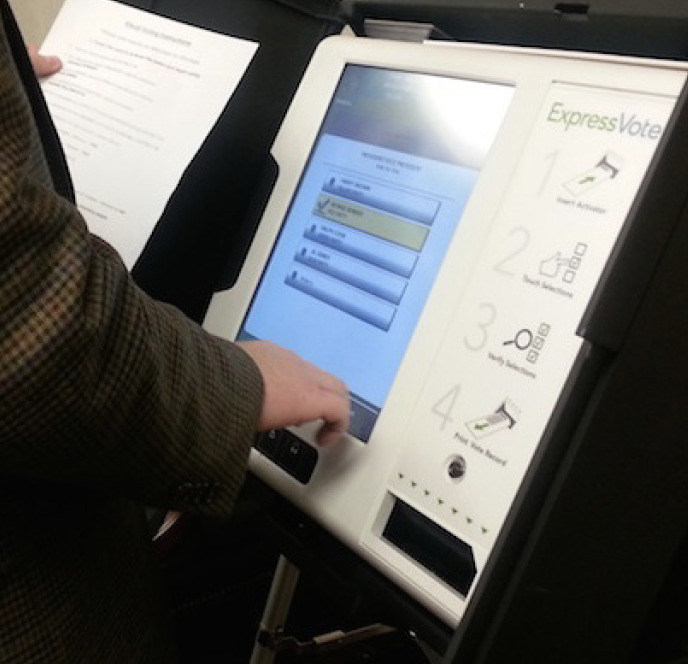 Election Systems & Software
ExpressVote
Make / Model: ES&S ExpressVote
Equipment Type: Ballot Marking Device or Hybrid BMD/Tabulator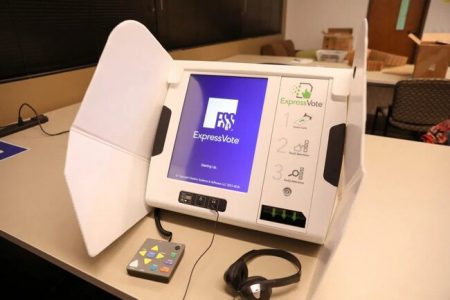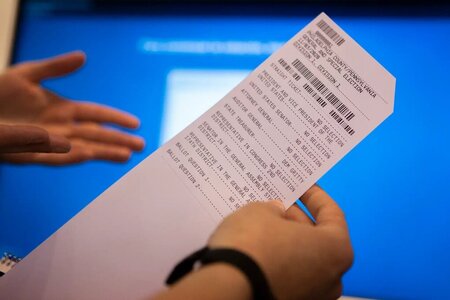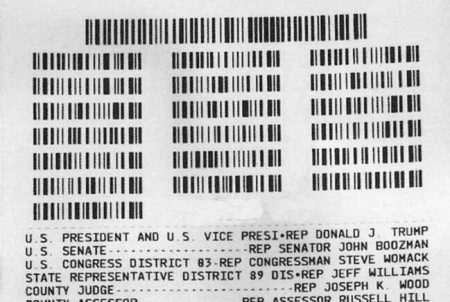 Election Systems & Software (ES&S) ExpressVote is a ballot marking device that combines touchscreen voting with an integrated thermal printer. ExpressVote is typically used as an accessible voting device in jurisdictions that use hand-marked paper ballots for the general voting population; however, the device is also popular with some jurisdictions that prefer voting with a paper trail, but who want to implement a fully-electronic voting experience for all voters, as an alternative to hand-marked paper ballots.
The ExpressVote can be deployed in one of two configurations: either as a marking device only, or as a marking device combined with additional integrated scanning and tabulation capabilities. These configurations are not interchangeable; jurisdictions typically choose to deploy their preferred configuration, and it does not change.
When configured exclusively as a ballot marking device (which is how most jurisdictions deploy it), ExpressVote does not have scanning or tabulating capabilities. Accordingly, after reviewing choices and printing the summary card , the voter must insert it into a separate ES&S scanning tabulator to cast the vote. The scanner most commonly used with ExpressVote is the ES&S DS200.
In both configurations, to begin the voting process, voters insert a blank thermal paper card; a voter's ballot style is often encoded on the blank card during the voter check-in process, so the ExpressVote automatically displays the proper version of an electronic ballot. The ExpressVote device allows voters to mark choices on a touchscreen display. After voters are finished marking all their preferred choices, the device presents a "review page" that allows voters to double-check their choices on their ballot. (And if voters skip any contests, the screen indicates "No selection made.") After voters have had the opportunity to review all choices on the summary page, voters print a summary paper record of their choices.
In all versions of ExpressVote, it can also be configured with additional accessible features for voters with disabilities. ExpressVote supports accessible voting through an optional tethered Audio-Tactile Interface (ATI), which is a "game controller" style console that includes tactile navigation buttons. The ATI can also support headphones for voters who are blind or visually impaired, or paddles or sip-and-puff devices for voters with dexterity impairments.
Whether configured as a marking device only, or with additional tabulation capabilities, the format of the ExpressVote printed vote record is the same: the device prints thermal summary "cards" (which are more narrow than standard letter-size paper). The summary cards list voters' choice(s) in each contest (rather than all options, like a traditional format ballot), and ExpressVote encodes the voter choices in a non-human readable QR code.
Tabulators for the summary cards always count votes by reading the computerized QR code, not the human-readable text that the voter sees. And, depending on how jurisdictions choose to configure the ExpressVote, the method of casting the ballot differs. Those two methods are described below.
ExpressVote Configured as a BMD/Tabulator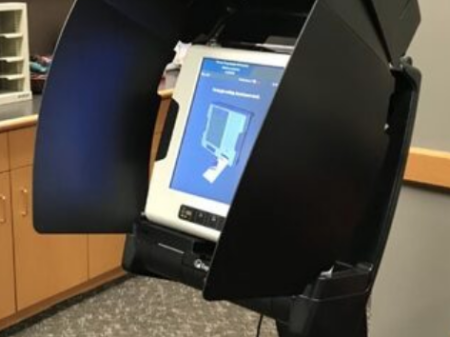 Although most jurisdictions deploy ExpressVote as a marking device only, ES&S offers an additional configuration option: at the time of purchase, customers can elect to use ExpressVote with an optional "kiosk" that also includes a paper chute and receptacle to store voted summary cards. When used along with other software features, this configuration allows ExpressVote to scan and count votes on the same device that voters use to mark choices and print their summary cards; no separate scanner is needed.
When used in "tabulator mode, the ExpressVote can be configured to either return marked summary cards to the voter for manual review, before re-inserting them into the unit for scanning and tabulation; or to allow the voter to automatically cast their vote after an on-screen review only (i.e. without physically removing and reinserting the card). In either case, after the paper summary card is cast, the paper path drops the card into the attached chute, and voted summary cards are held in the attached receptacle, in case audits or recounts are performed after the election.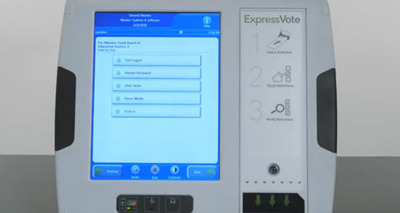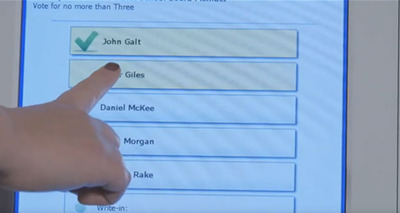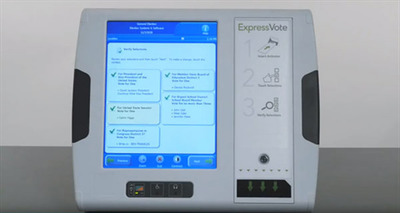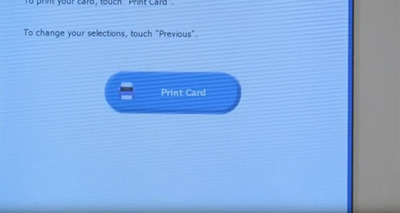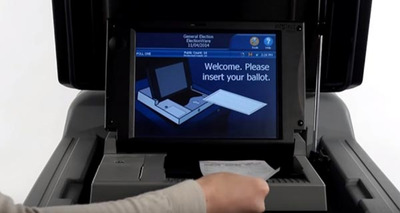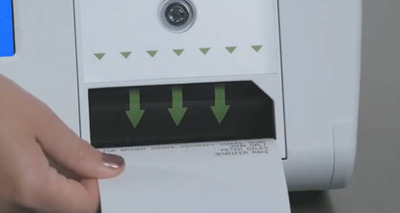 After you check in, a poll worker will direct you to a voting station and set you up with a ballot marking device.
Make your selections by touching the screen.
Use the PREVIOUS and NEXT buttons to switch between contests on the ballot.
Review your selections on the summary screen.
Check that you have voted all the contests you want to vote and confirm your selections.

You do not have to vote every contest.

Check the maximum number of candidates you are allowed to select for each office.

You may select fewer than the maximum number of candidates.

To make a change, touch the contest and change your selection.
If you are satisfied with your selections, touch PRINT CARD to print your ballot.
Confirm your selections on the printed ballot.
If you want to make a change after the ballot is printed, you will need help from a poll worker to start over.

Give your spoiled ballot to the poll worker.
If using the ES&S ExpressVote configured as a Ballot Marking Device
Take your printed ballot to the ballot scanner and insert it into the scanner.

A poll worker may be nearby to help you.

If you see a message saying the ballot was NOT successfully cast, you may need to review your ballot again.

If you do not understand the message on the screen, ask for help from a poll worker.

Your ballot is cast when you see a confirmation screen on the scanner.
If voting on the ES&S ExpressVote configured as a Hybrid BMD/Tabulator
Insert the ballot back into the ExpressVote. The ballot will be scanned and deposited into a secure container.

A poll worker may be nearby to help you.

If you see a message saying the ballot was NOT successfully cast, you may need to review your ballot again.

If you do not understand the message on the screen, ask for help from a poll worker.

Your ballot is cast when you see a confirmation screen
ExpressVote Accessibility Features Demonstration from New York City
Demonstration of the ExpressVote as a BMD from Cooke County, TX
Demonstration of ExpressVote as a BMD/tabulator from Johnson County, KS
ExpressVote BMD Poll Worker Training from Iowa
Election Systems & Software was founded in 1979 as American Information Systems Inc. (AIS), it merged with Business Records Corp. the following year and changed its name to ES&S. It is now a subsidiary of McCarthy Group, LLC, and McCarthy Capital. As of 2007 it was the largest manufacturer of voting machines in the United States, claiming customers in 1,700 localities. As of 2007 it had approximately 350 employees; 2005 revenues were $117 million. ES&S announced its purchase of AutoMARK Technical Systems on January 28, 2008.